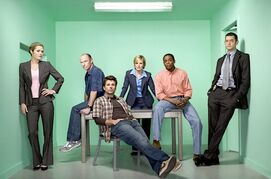 Psych is an American detective comedy-drama television series created by Steve Franks and broadcast on USA Network. It stars James Roday as Shawn Spencer, a young crime consultant for the Santa Barbara Police Department whose "heightened observational skills" and impressive detective instincts allow him to convince people that he solves cases with psychic abilities. The program also stars Dulé Hill as Shawn's best friend and reluctant partner Burton "Gus" Guster, as well as Corbin Bernsen as Shawn's captious father, Henry Spencer.
The series aired new episodes in the U.S. on Wednesdays at 9PM ET/PT, 9PM CST on USA Network. During the second season, an animated segment was added to the series titled "The Big Adventures of Little Shawn and Gus". Psych debuted on Friday, July 7, 2006, immediately following the fifth season premiere of Monk, and continued to be paired with the series until Monk's conclusion on December 4, 2009. It was the highest-rated U.S. basic cable television premiere of 2006. The sixth season ended on April 11, 2012. It was USA Network's longest-running original series on air at the time it ended. On January 10, 2012, USA renewed the series for a seventh season, to include 16 episodes. On December 19, 2012, a renewal for season eight was announced. Psych began its eighth and final season on January 8, 2014, concluding on March 26 with the After Pshow.
Ad blocker interference detected!
Wikia is a free-to-use site that makes money from advertising. We have a modified experience for viewers using ad blockers

Wikia is not accessible if you've made further modifications. Remove the custom ad blocker rule(s) and the page will load as expected.