Psych (detective agency)
Talk

0
380pages on
this wiki
Psych (detective agency)
is the private psychic detective agency
Shawn
began with
Gus
in the
Pilot
episode. Their business does receive clients, but it's unknown whether or not there have been other clients than those mentioned in episodes. Shawn started and named the agency without Gus's knowing, and called it Psych, saying the best way to make people believe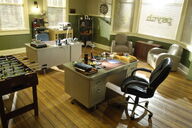 you is to tell them that you're lying to them. He used Gus's credit card and forged his signature on the lease. The Psych office is like a second home to both Shawn and Gus with it's own bathroom, kitchen, and entertainment system.
Police Involvement
Edit
Shawn and Gus do recieve clients through their psychic detective agency but the bulk of the investigations come from involment with the Santa Barbara Police Department. The Psych detective agency also tends to reveal past cases which wrongly incarcerated people or closed due to lack of evidence.
In the very first episode it is a one room building.
Shawn tore down a wall to expand the room without the owner's authority. It is never revealed whether he got in trouble.
Mr Yin once vandilized the Psych window to read "Psycho". 
On one occasion, Shawn and Gus kept a stolen Polar Bear in the office, contained only by a piece of string on the floor.