"Psych: The Musical" is a season seven episode of Psych, but it aired as a two-hour special on December 15, 2013, at 9/8c, outside of the rest of the season. The events of the episode occur before Lassie & Marlowe's wedding.
As the title suggests, it is a musical.
Plot Summary
Edit
Shawn and Gus track down playwright madman named Z (Anthony Rapp), who six years earlier was deemed criminally insane after locking a critic in a back room of the theater that he burned to the ground, and who has been locked in a mental institution since. Shawn and Gus are forced to consult with the one person Z confided in while in the institution, a dangerous villain from Shawn's past.
Musical Numbers
Edit
Production
Edit
Filming for "Psych: The Musical" began on October 2, 2012. The DVD was released on December 17, 2013.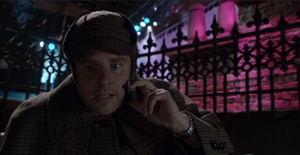 The gallery for ' 'Psych: The Musical can be found here.
Ad blocker interference detected!
Wikia is a free-to-use site that makes money from advertising. We have a modified experience for viewers using ad blockers

Wikia is not accessible if you've made further modifications. Remove the custom ad blocker rule(s) and the page will load as expected.